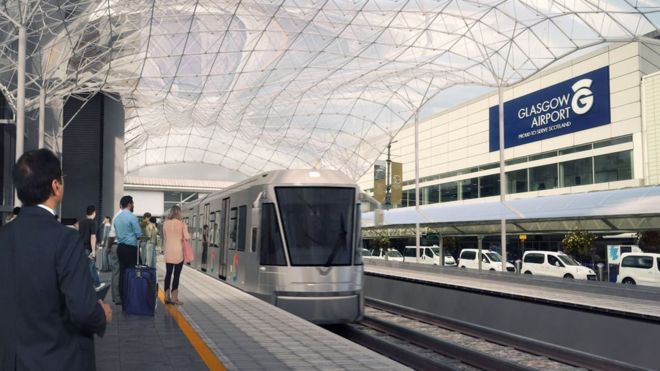 The £144m Glasgow Airport Access Project could see journey times cut to 16.5 minutes and would bypass the need to use the busy M8.
It would involve a specially-designed hybrid tram-train using the existing railway network and on-street tracks.
It comes seven years after the Scottish government scrapped plans for a direct rail link on the grounds of cost.
If approved the system would be operational by 2025, with construction due to begin in 2022.
'Single biggest element'
Four tram-trains per hour would run in each direction taking travellers between Glasgow Central Station, Paisley Gilmour Street and the airport.
The tram-trains would travel from Glasgow Central to Paisley before joining a new tram-line system to complete the journey to the airport.
The interchange point at Paisley Gilmour Street would allow passengers destinations on the Ayrshire and Inverclyde train lines to access the service.
The proposals are part of the £1bn city deal announced for Glasgow in 2014.
The leader of Glasgow City Council Frank McAveety said the project was "essential".
The Labour councillor said: "We've long argued that a new rail link between the airport and the city centre is essential for the thousands of tourists and business travellers who fly into and out of Glasgow every day.